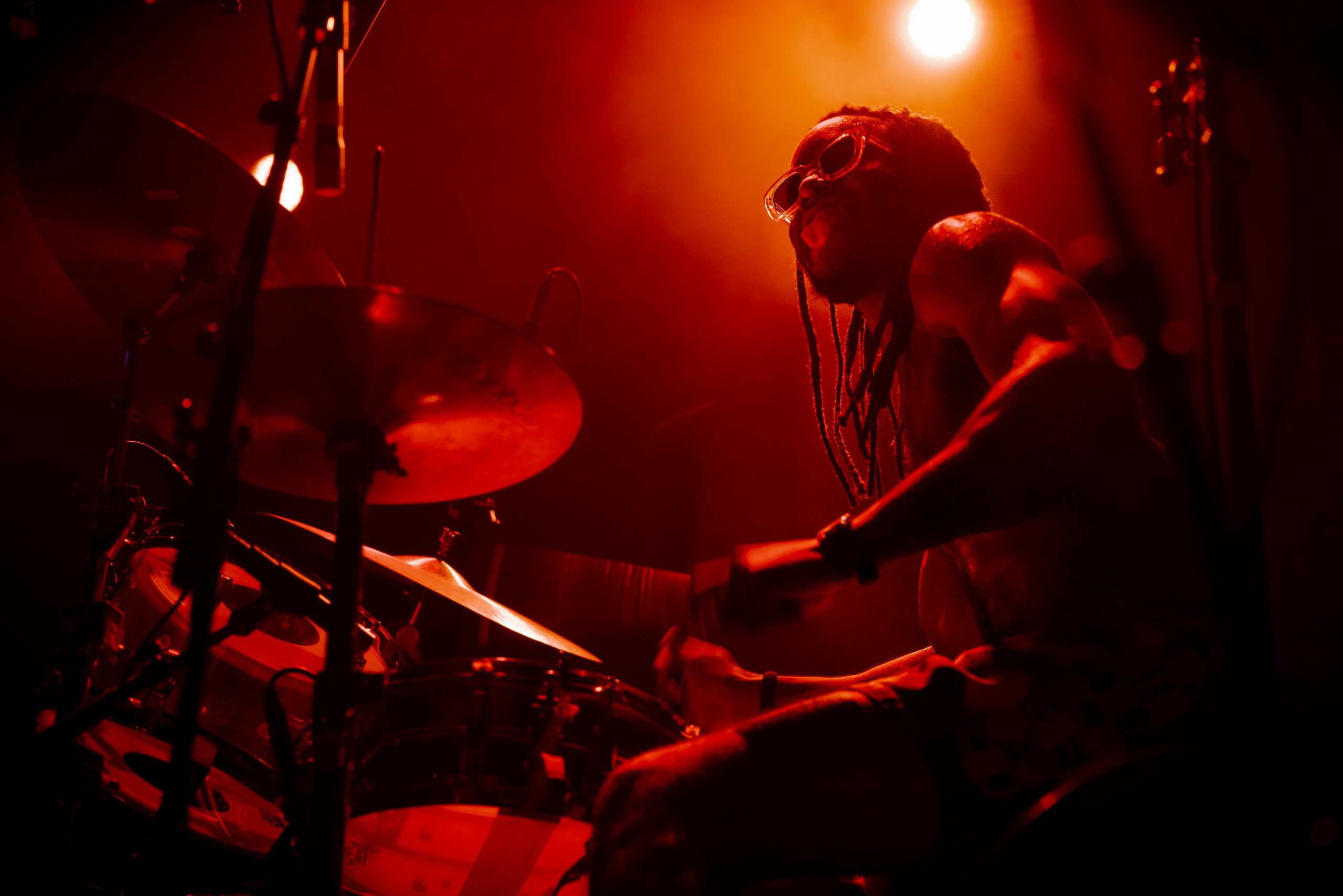 black midi with Quelle Chris. Ogden Theatre. 10.04.22
Whenever I pass a venue with a line out front, I try to guess what band is playing by the makeup of the crowd. Of course, it is easier just to read the marquee, but that takes all the fun out of it. This game would have been at the genius level on Tuesday night at the Ogden Theatre. Who (or what) would attract guys in black Iron Maiden shirts but also appeal to hipsters, hip-hop heads, and punks? Halloween is too far off for costumes, so why were some people dressed for Burning Man while others looked like they were attending the latest boutique restaurant opening?
That's black midi for you, though. The trio from London, England, a band that refuses to be categorized, is a nightmare for music writers because their sound cannot be put into words. We don't have the language for it. They have been described as Avant-prog, math rock, jazz, chaotic, anti-heroes, and antagonists. Their music has changed lives for some and is unlistenable to others. Accusations of taking themselves too seriously are lobbed at the members as often as the word "comedic" pops up in reviews. All these things are both correct and entirely misleading. black midi needs to be heard to be believed, even though believing does not equate to understanding.
Throw the abstract rapper Quelle Chris in the mix, and you have your explanation for a crowd lined up on Colfax that defies stereotypes.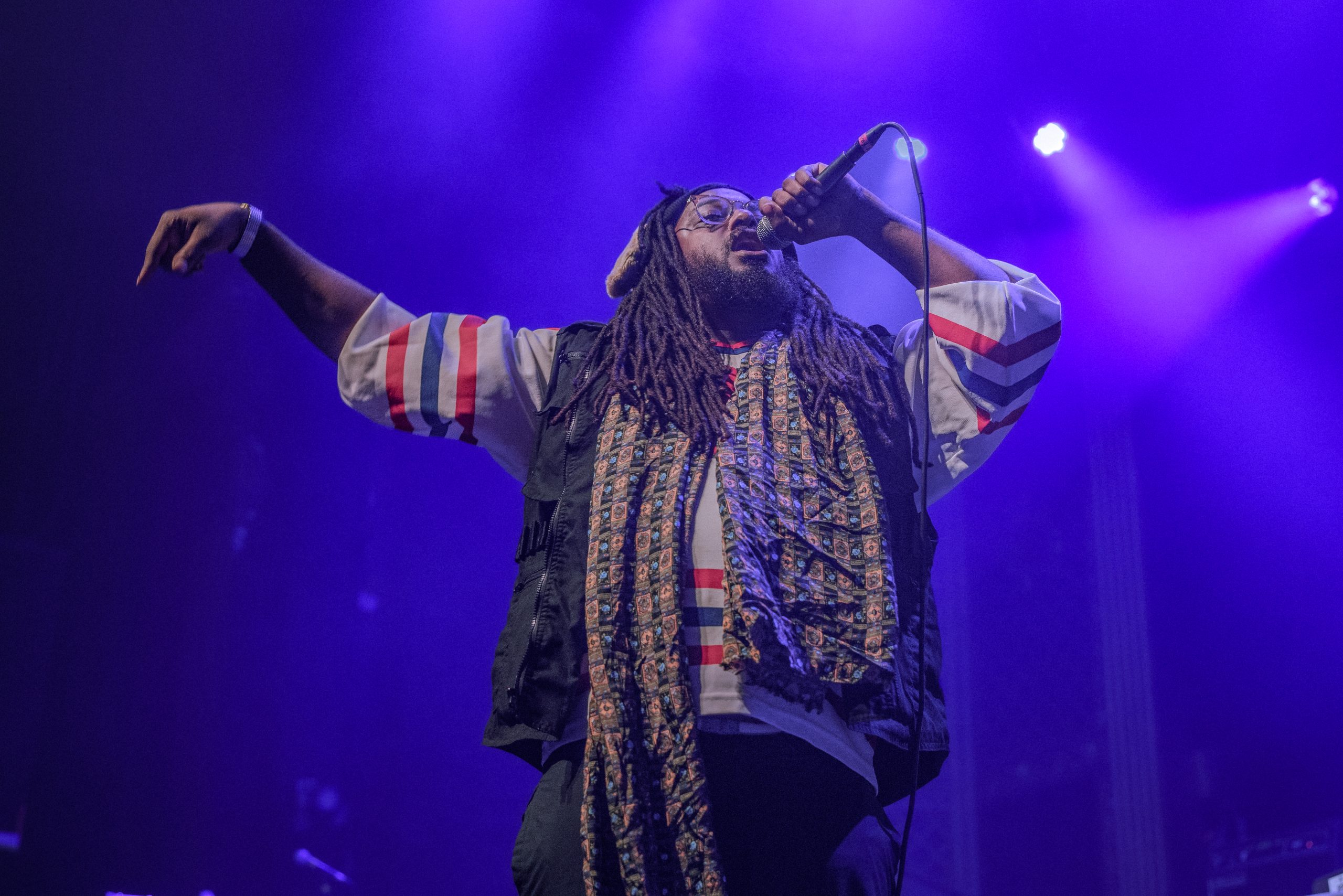 Quelle Chris is a rapper/producer based in Detroit who first came to my attention when he released "Everything's Fine" with Jean Grae (who would later become his wife.) Born Gavin Christopher Tennille, Chris takes an absurdist look at the issues plaguing our country. The cover for his breakout album, "Guns," is a perfect example of his style. Plastered with bullets, the artwork shows Chris' face buried in ammunition, with gun barrels protruding from every orifice.
His stage presence matches his personality on record. Backed by celebrated DJ House Shoes, also from Detroit, Chris is a force to be reckoned with while contradictorily making everyone in the room feel like a friend. The forty-minute set opened with Chris swapping out his chair to get a better view of the audience. "Alive Ain't Always Living" and "Symbolic" were performed in the sitting position, almost like a campfire sing-along or an appointment with a therapist. The pandemic took its toll on the man, but he assured us he learned to love himself during the lockdowns. He got to his feet for the hilarious "Buddies," which expanded on this topic with lyrics such as "I fucks with myself. Might bring myself some flowers, I'm in love with myself. I might just, jump back and kiss myself."
The performance included a career-spanning set of songs, touching on most of his major releases. "Another Blunt" was prefaced by a funny story about weed saving lives, even if you don't smoke. "At some point, you probably pissed someone off, and they went home and smoked a joint instead of coming at you." We were all asked to close our eyes and picture our spirit animal before "DEATHFAME," then "count to fifteen, and then everyone make the sound of your animal!"
"Straight Shot," "Sudden Death," and "Obamacare," arguably his most popular tracks, wrapped things up, but not before Chris invited everyone to see him at the merch booth. "We don't bite unless requested. We got merch, and we sign and draw on everything." His offer was not refused, as people flocked to the booth nonstop before black midi took the stage.
Quelle Chris Setlist: Alive Ain't Always Living, Symbolic (Basquiat), Buddies, Another Blunt, DEATHFAME, Where the Wild Things Roam, Straight Shot, Sudden Death, Obamacare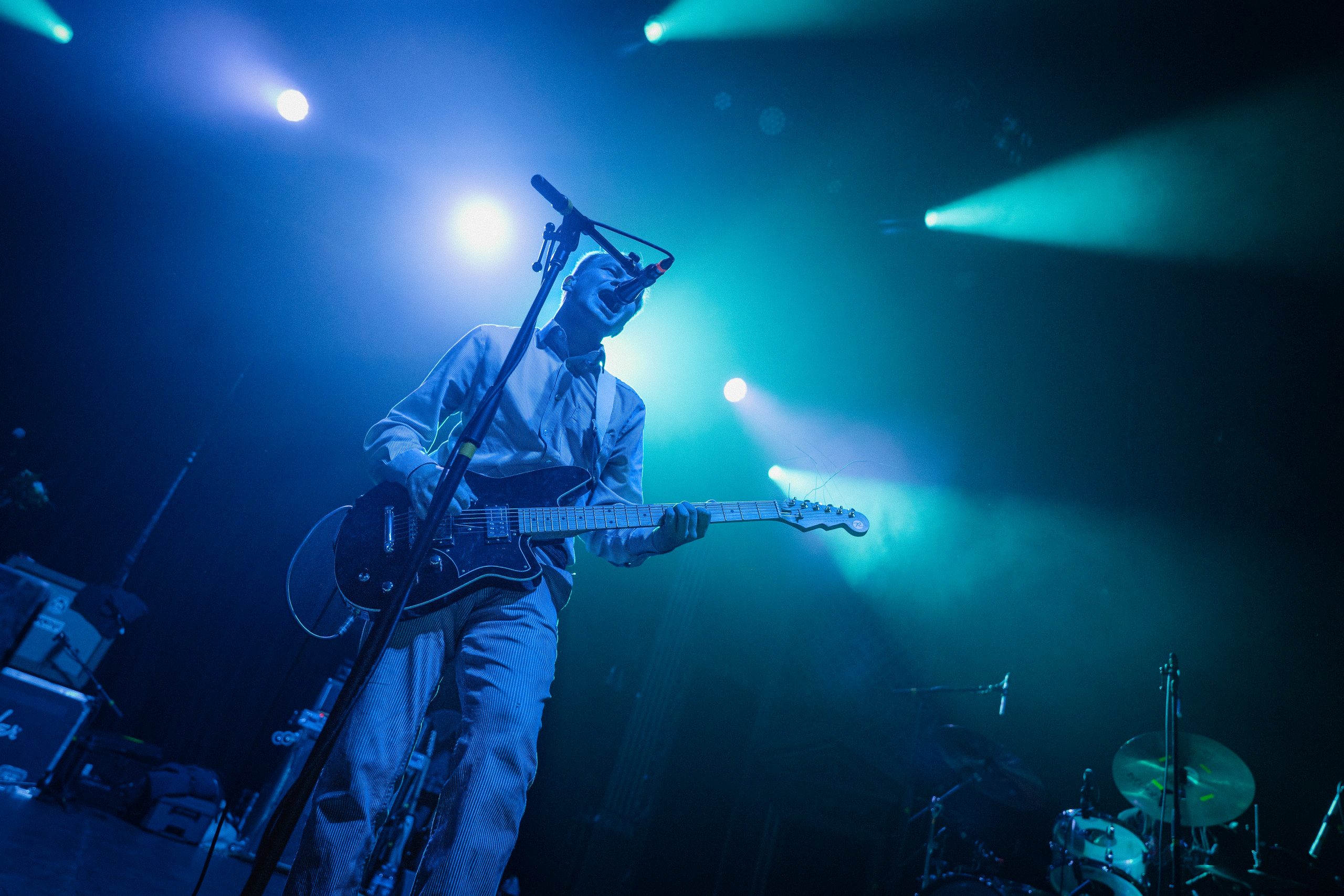 Like the saying about never meeting your heroes, there are some bands I am hesitant about seeing live. black midi was one of those bands. There was never any doubt they would be amazing, but I didn't want reality to cause the fantasy to fade. Before this week, I didn't even know what the band members looked like. The music was enough. The tales of cult leaders, boxers, drunken captains, and killing for country on the way to hell were enough. Mere mortals could not have created these stories and sounds, or so I liked to tell myself.
As it turned out, I was wrong.
Announced as "weighing in at 7 tons, the undisputed heavyweight champions of the world…." Geordie Greep and Cameron Picton took the stage, looking like ordinary guys. They both play terrestrial guitars and bass and use human mouths to sing into standard microphones. They wear shirts and pants and shoes like the rest of us. Morgan Simpson is the same. Sure, he has an inhuman ability behind the drum kit, and he lost his shirt after a couple of songs, but he is as flesh and blood as touring keyboardist Seth Evans. Unfortunately, Kaidi Akinnibi was not present, and horns were a glaring omission during the performance, but I must assume he is also of the sapiens species.
Did this realization hinder my enjoyment of the show? Yes and no.
Obviously, I knew the members of black midi were human beings, but I closed my eyes for much of the set. Feeling the full assault of songs like "Sugar/Tzu," "Eat Men Eat," "Near DT, MI," and "Slow" was devastating in a great way, but there wasn't much action on stage. Where chaos reigns on record, the live show seemed much more controlled and calculated. There was one exception, though, and that was Morgan Simpson. The man is a beast. Drummers are also fun to watch when you can see them, but Simpson is something else. He is the one member of the band who honestly seems to be on a level above this plane of existence. The fact that his kit was set up at the front of the stage attests to the band's awareness that he should be a focal point during their live performances.
Despite a crowd sporting a plethora of metal and punk t-shirts, the expected pit never broke out, although that was no fault of the band. There were numerous moments when slamming into your neighbors would have been appropriate. There also wasn't any banter until the very end. Each song bled into the next, with the only breathing room provided by the few mellow selections such as "Western" and "Still."
"John L" included interpolations of Oasis' "Wonderwall," Wire's "Three Girl Rhumba," and The Beatles' "Day Tripper," which led to the first interaction with the audience the entire night. Greep demanded everyone yell, "John Paul Jones!" "Give me a P, give me an A… I'm not going to say the rest. If you say Paul Jones at the mech booth, you get 10% on. You will pay 10% more. It's a good deal."
The set ended with the erroneously titled "Slow" before Greep started rattling off a list of guitarists who were not actually "on guitar!" Then they were gone, and we were left to head back out to Colfax with the 1998 merengue hit "Suavemente" stuck in our heads.
That night I felt like I'd only seen a rock show when I was expecting a mind-altering event, but the show hasn't left my head since, and I'm listening to black midi albums more than I ever did before. Maybe my mind has been altered. Perhaps the procedure was just executed with the same precise skill the boys from black midi use in making music. Maybe they aren't human after all. 
black midi Setlist: 953, Speedway, Welcome to Hell, Sugar/Tzu, Dethroned, Faster Amaranta, Still, Eat Men Eat, Dangerous Liaisons, Western, Near DT MI, John L, 27 Questions, The Defence, Slow