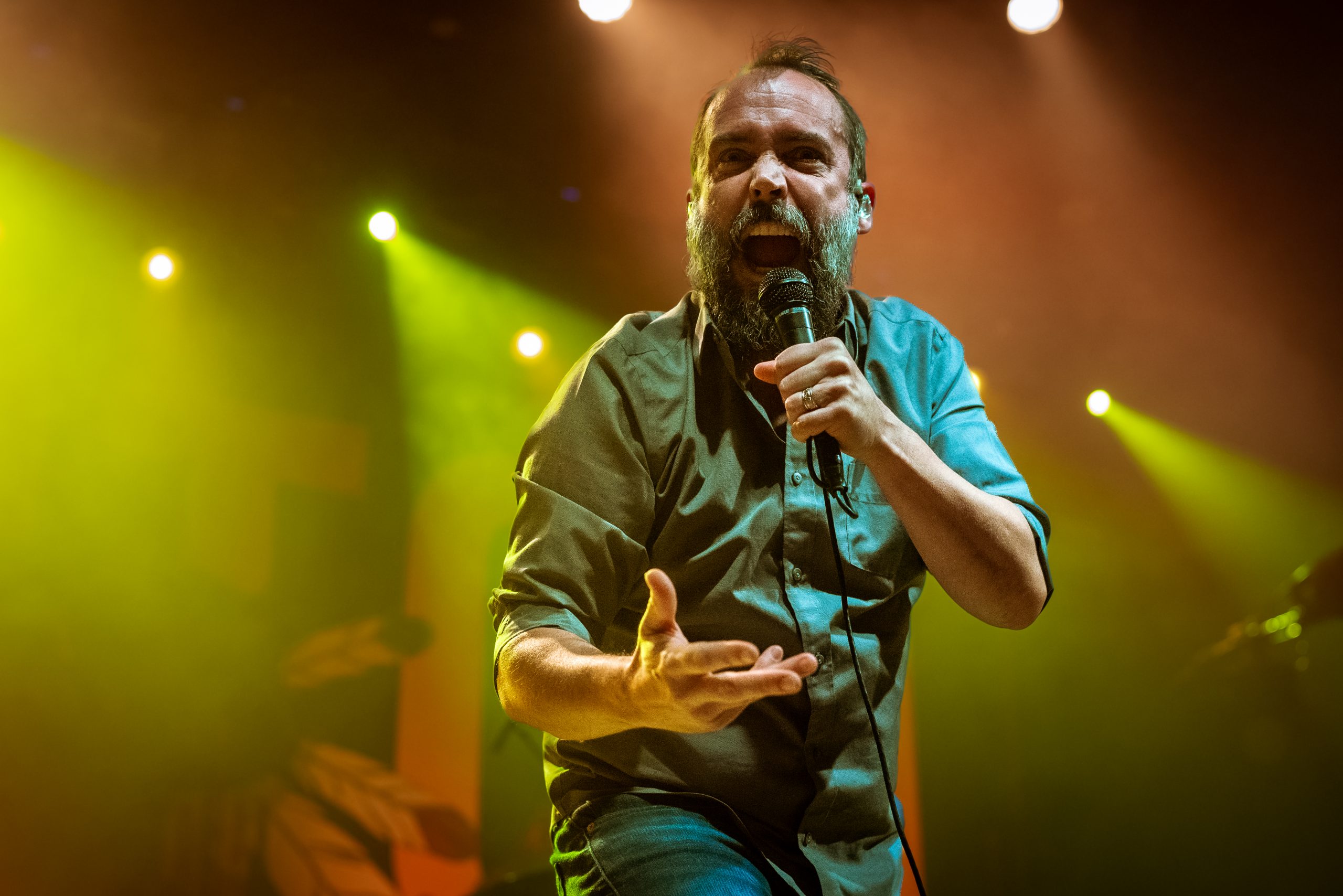 Clutch with Helmet and Quicksand. Fillmore. 10.13.22
"I will suffer no evil
My guitar will guide me through
I will suffer no evil
And this time, I want to hear it from you."
On Thursday, October 13th, working-class stoner lords Clutch took over the Fillmore to celebrate another solid slab of riff-laden hard rock straight from Germantown, Maryland. As if a twenty-song setlist wasn't enough to pack loyal fans into the auditorium to shell out hard-earned dollars on criminally overpriced drinks, the boys in the band booked an incredible cast of supporting characters to round out the night. JD Pinkus (Butthole Surfers, Melvins, Honky), Quicksand, and Helmet all brought the 90s alternative metal scene back in living color, with songs from a time that equally seems like yesterday and an eternity ago.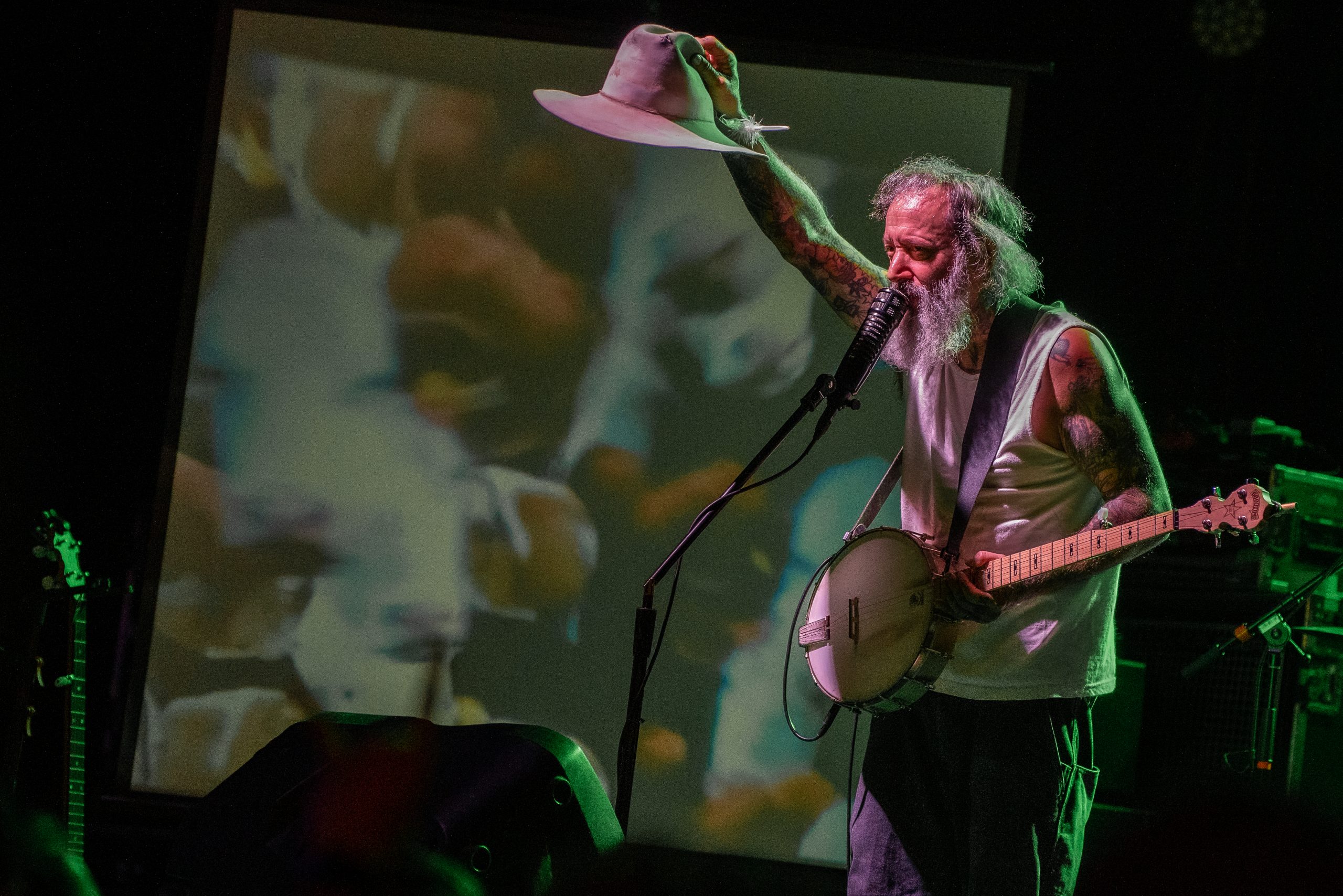 "I'm pissin' dirty tomorrow; let's get polluted tonight."
Driving up and down Colfax and all its side streets and alleys, I was cursing myself for not taking an Uber or Lyft. Bad Suns were playing the Ogden, and all the "parking lots" were price gouging. I finally found an empty spot on Ogden, but it was two-hour parking. I said, "screw it," grabbed my gear, locked my car, and hoofed it to the Fillmore. By the time I picked up my pass, got through security, and up to the stage, JD Pinkus was well into his set. The part I was able to catch was entertaining as hell, though. Standing up there in a white tank top, with long grey hair dangling from under his hat and mingling with his beard, the man responsible for all those funky basslines on all those fucked up Butthole Surfers records looked like he could be busking out front rather than entertaining a large crowd with banjo-driven songs like "Pissin' Dirty" and "Broke, Soaked and Dirty." Sandwiched between two projection screens showing old movies, JD was part hillbilly musician and part vagabond comedian. "This one goes out to the oldest woman I ever had sex with; my wife!" "I appreciate you coming out early and loaning me your ears and eyes. I got PCP in ladies' sizes and STDs in men's sizes." He had the crowd dancing and laughing, even if many didn't know who the crazy old man was.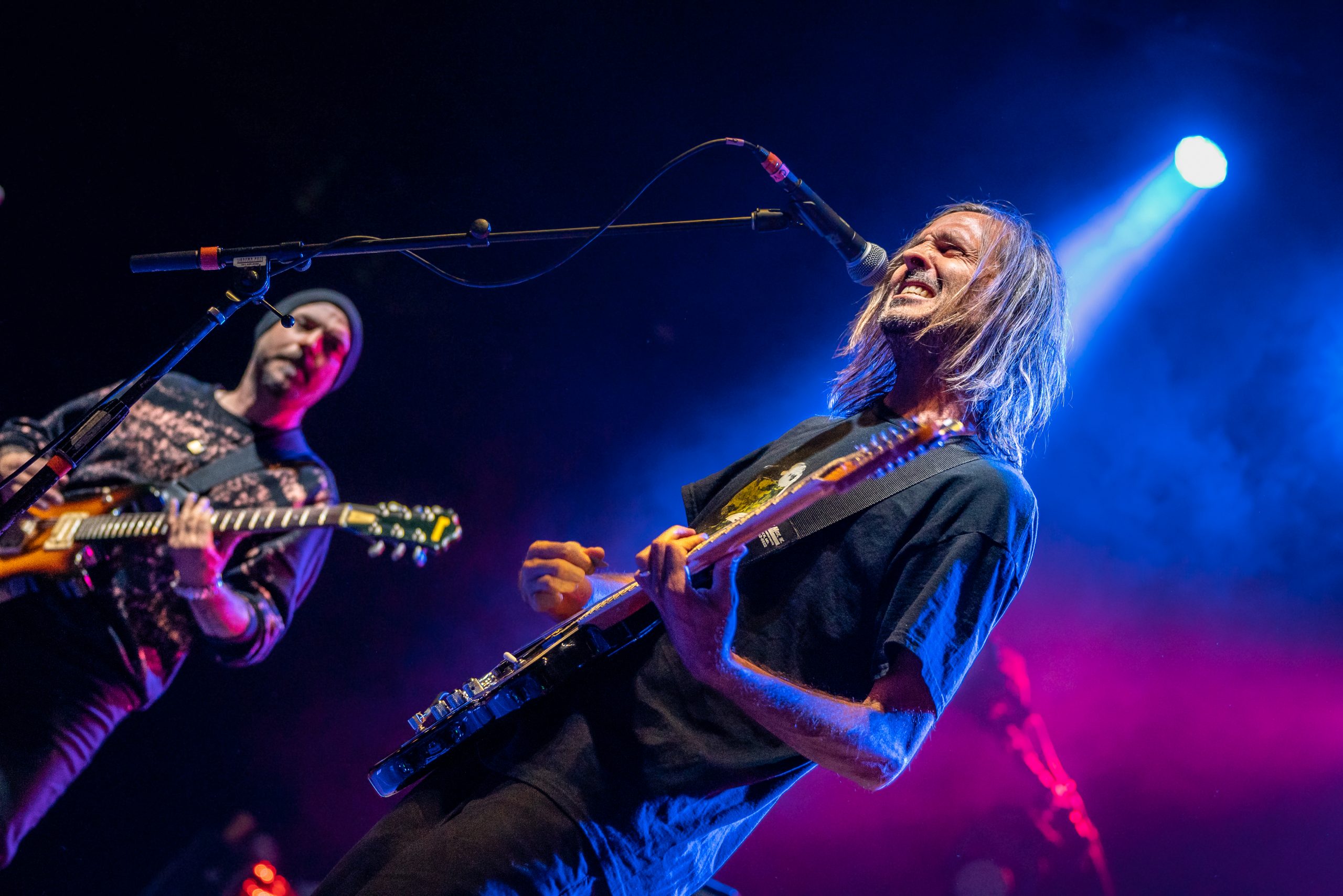 "I'm not impressed
Illusional lies you tell best
And you want me to know
But I can't hear at all."
Quicksand is one of those east coast bands that were right in my wheelhouse in the 90s but completely escaped my attention. I saw them once, in '95, as the first band on a bill that included The Offspring and No Use For a Name, but I never got into them. It was probably because the internet wasn't mainstream yet, and I was too involved in the local Southern California scene, which had many of its own post-hardcore bands. When it came to the east coast, I was much more interested in the bands that came before, including those with which Quicksand had a history, namely Youth of Today and Gorilla Biscuits. That said, I have always respected Quicksand's sound. It brings me back to those days when I'd see Fugazi play all-ages dives in San Diego. Their performance on Thursday night brought me around even more. Optimizing their short set with as little banter as possible, original members Walter Schreifels, Sergio Vega (who I'm used to seeing with Deftones), and Alan Cage kicked things off with a few selections from their latest album, "Distant Populations," before flying through crowd favorites from "Slip" and "Manic Compression" with their guitars and sticks thrust above their heads (when they weren't mid-dual with each other). It was a fun throwback to the last decade of the twentieth century, but it was the next band that really brought me back.
Quicksand Setlist: Inversion, Lightning Field, Colossus, Missile Command, Fazer, Thorn in My Side, Head To Wall, Unfulfilled, Dine Alone, Delusional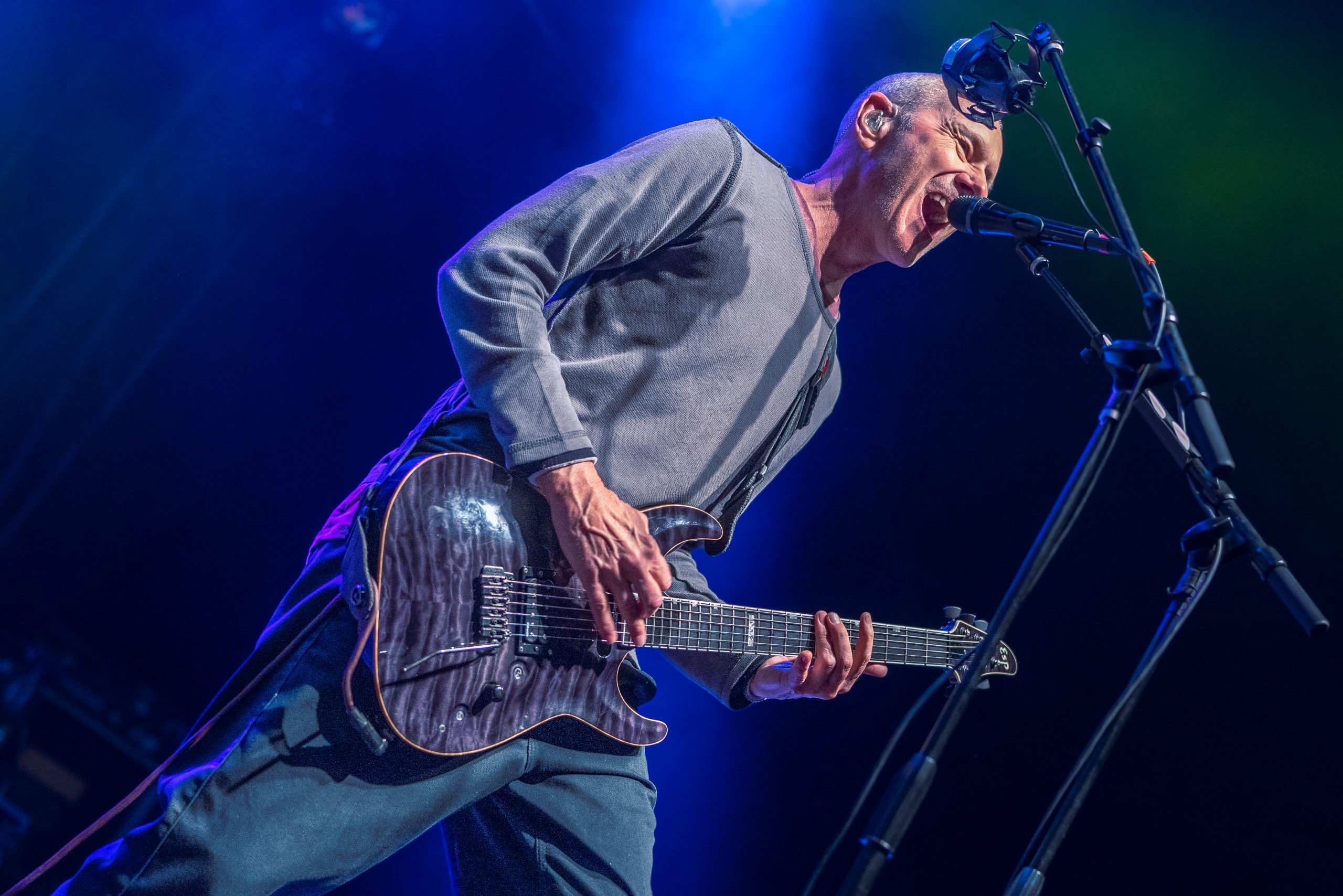 "To die unsung would really bring you down
Although wet eyes would never suit you
Walk through, no archetypal suicide
Die young is far too boring these days."
To my knowledge, Quicksand failed to penetrate the scene in San Diego as much as they would have liked, but Helmet was a household name, especially after the release of "Betty." I never got to see them, though, and I did not know they were still a band. Page Hamilton is the only original member, but Helmet was always Page's project. Helmet has always been Page Hamilton. There are not many bands that have been important to me that I haven't seen live, so I was excited. And they did not disappoint. Accompanied by Kyle Stevenson on drums, Dan Beeman on rhythm guitar, and Dave Case on bass, this line-up has been in place for over a decade, and they work very well together. Besides an issue with the drums during the first song, the set was flawless. They were the loudest band I've ever experienced from the photo pit, and they were feeding off the sold-out crowd in front of them. The entire set had zero banter, except for a quick "thank you very much" at the end. It was just a full-on hard rock show, and it killed. A small pit broke out around the time they performed "Unsung," and a large one when "Just Another Victim" brought me back to that awful movie I watched so many times as a kid. The set ended with "In The Meantime," and I was left with ringing ears and shaking my head, wondering how I'd never seen this band before.
Helmet Setlist: It's Easy to Get Bored, Ironhead, Rollo, Street Crab, Milquetoast, Unsung, Enemies, In Person, Wilma's Rainbow, Just Another Victim, In the Meantime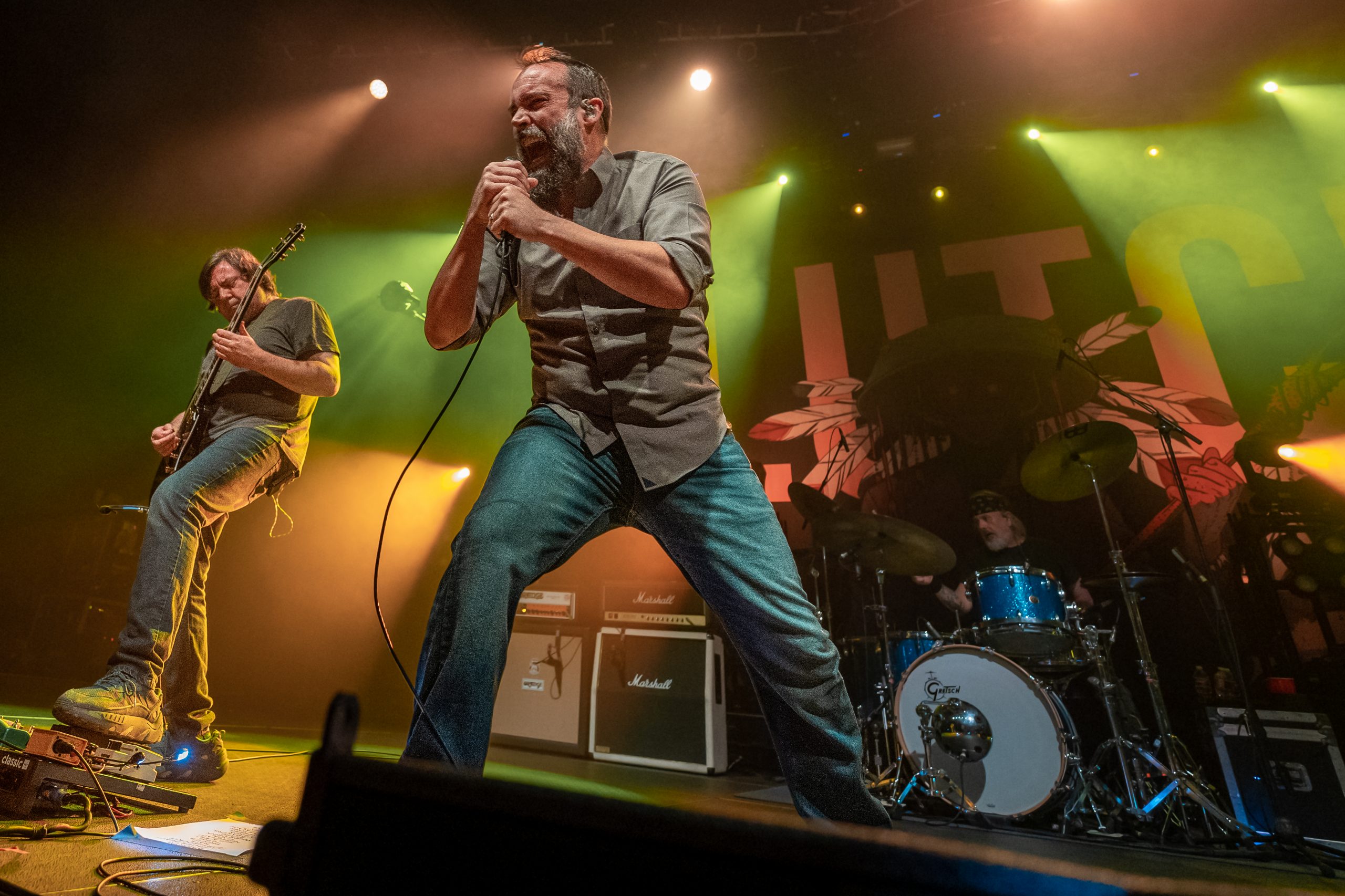 "Hey kid, are you going my way?
Hop in, we'll have ourselves a field day
We'll find us some spacegrass
Lay low, watch the universe expand."
We were three acts into the night, and the anticipation for Clutch was thick, at least among those still standing. While in the back, I caught a glimpse of the medical room when two girls carried their friend in. There were multiple people hooked up to IV drips. I had also seen a couple of people in the front of the venue that didn't look like they were in complete control of themselves. As Metallica, Ozzy, Priest, and Pantera were piped over the airwaves, I could feel the tension mounting. I was texting with a friend who said, "I oddly don't hear much about Clutch, but I dig a lot of their tunes, especially when skiing or mountain biking," which pretty much sums up the band. Everyone likes Clutch, but they are rarely talked about. I sent him a picture of the massive crowd and said, "you aren't alone." That's when someone fell into the railing and had to be helped back up by security. The 80s metal had given way to Prince's "Purple Rain," which gave way to Chuck Brown's "We Need Some Money," and then Clutch was on stage.
Clutch was around in the 90s when the other acts were enjoying commercial success, but unlike those bands, Clutch's popularity didn't peak in the 90s. My favorite Clutch album, "Earth Rocker," wasn't released until 2013. And while they have a sound that hasn't been topping charts these days, they don't lean on nostalgia to attract fans. They are a modern band. A band whose new material is as well received as twenty-eight-year-old songs like "Texan Book of the Dead" and "Escape from the Prison Planet. This is a band that can replace their most popular song ("Electric Worry") during the encore, and no one complains.
"Thank you, everybody. We're going to do some songs from the new album for all you old-school fans!"
Neil Fallon, always looking like the everyday man with his button-down and blue jeans, riled the crowd up, pointing to each person individually and performing for the camera at the same time. He is the guy to watch during a Clutch show, there is no competition, but he wouldn't be able to perform the way he does without Tim Sult (lead guitar), Dan Maines (bass), and Jean-Paul Gaster (drums) acting as the rock from which he preaches.
"What's going on here? Are we having a meet and greet? Trust me, the closer you get, the worse it sounds and smells. That's entirely my fault. It's been a couple days."
Writing about a Clutch show is like dancing about architecture. You just have to be there to experience it. So, I'll just take this opportunity to discuss some unique aspects of this particular show. We got four songs off the new album, "Sunrise on Slaughter Beach," and three each off "Blast Tyrant" and "Clutch." The rest of the set spanned the band's discography, with a couple each off "Earth Rocker" and "Robot Hive." Neil's theremin stopped working during "Skeletons on Mars," to which he quipped, "that's what you get for buying a used theremin off eBay for 250 bucks!" The main set started at 10:07 pm and ended at 11:15 pm. The band was back on stage a few minutes later for an encore that consisted of "Passive Restraints" and "Spacegrass" (which replace "Electric Worry" and "Fortunate Son," as written on the setlist).
Overall, it was a great night of "alternative" metal and post-hardcore. It brought me back to my days as a kid in San Diego, but it was also a badass rock show that didn't find the bands resting on their laurels. And best of all, I returned to my car four hours later and didn't have a parking ticket.
Clutch Setlist: Immortal, Slaughter Beach, Earth Rocker, Rats, Profits of Doom, 10,000 Witnesses, Red Alert (Boss Metal Zone), Nosferatu Madre, Texas Book of the Dead, Work Drink, Burning Beard, The Soapmakers, Escape From the Prison Planet, Cypress Grove, Skeletons on Mars, Noble Savage, The Face, Passive Restraints, Spacegrass