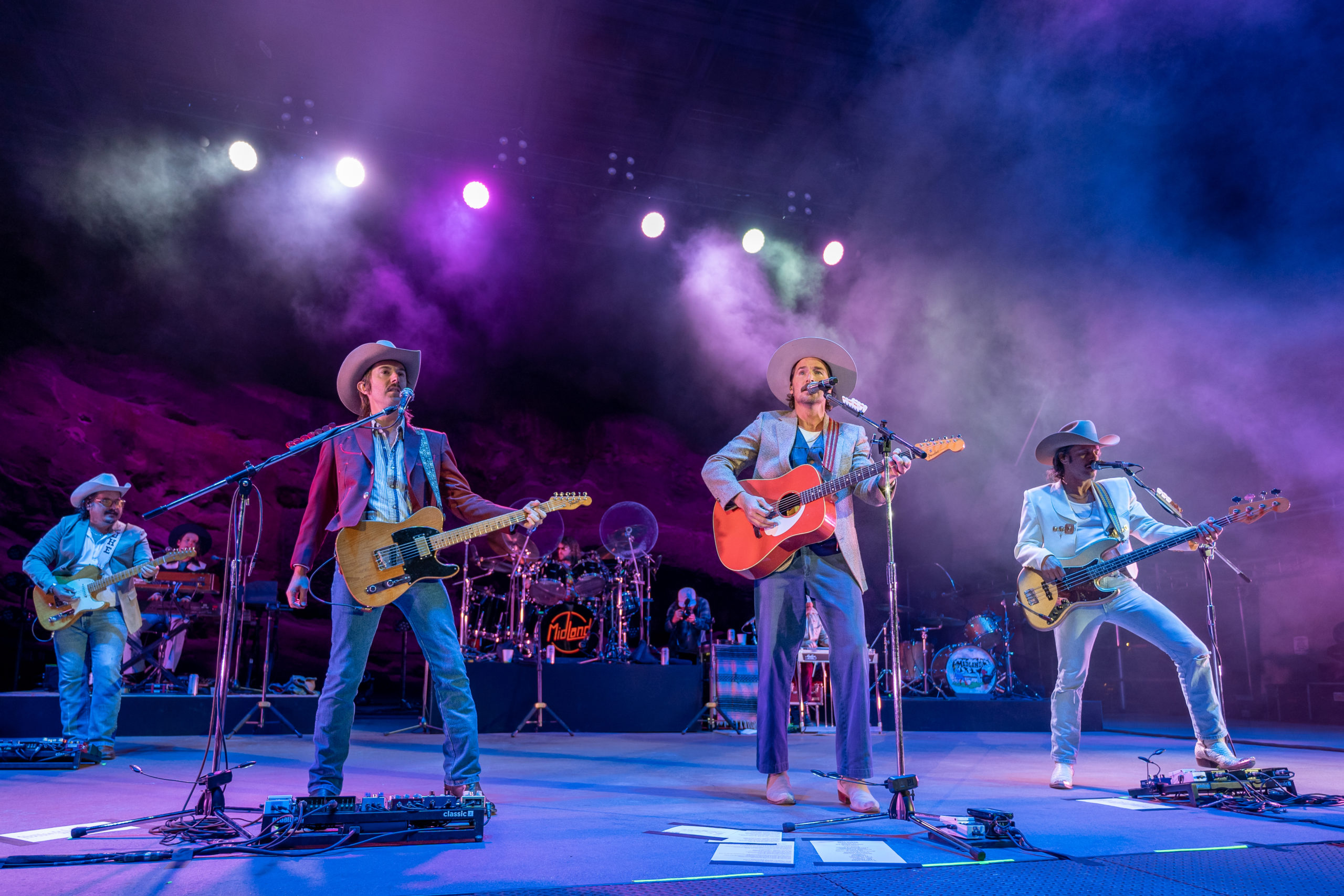 Midland and Hailey Whitters. Red Rocks. 10.22.22
Red Rocks season used to run from mid-May to late September. There were around fifty shows the first year I lived in Colorado. A few years later, Winter on the Rocks became a thing. It was the one show, usually held at the end of January, that fell outside the regularly scheduled season. Then Halloween on the Rocks started, then all the 420 shows. Now, Red Rocks concerts seem to be a year-round thing. Kicking off on April 1st, there were over 180 nights of music (and/or comedy) before Midland's inaugural concert at the iconic venue on October 22nd. And what a beautiful night it was. The weather in Colorado is always unpredictable. Shows can be flooded out in the middle of summer, and they can be relatively comfortable in January, but to have a crystal-clear wind-free night with a low of 55 degrees in late October is something special. Midland, Hailey Whitters, and Jonathan Terrell took advantage of this opportunity to entertain a sold-out crowd of almost ten thousand and the many watching the event live from the comfort of their homes.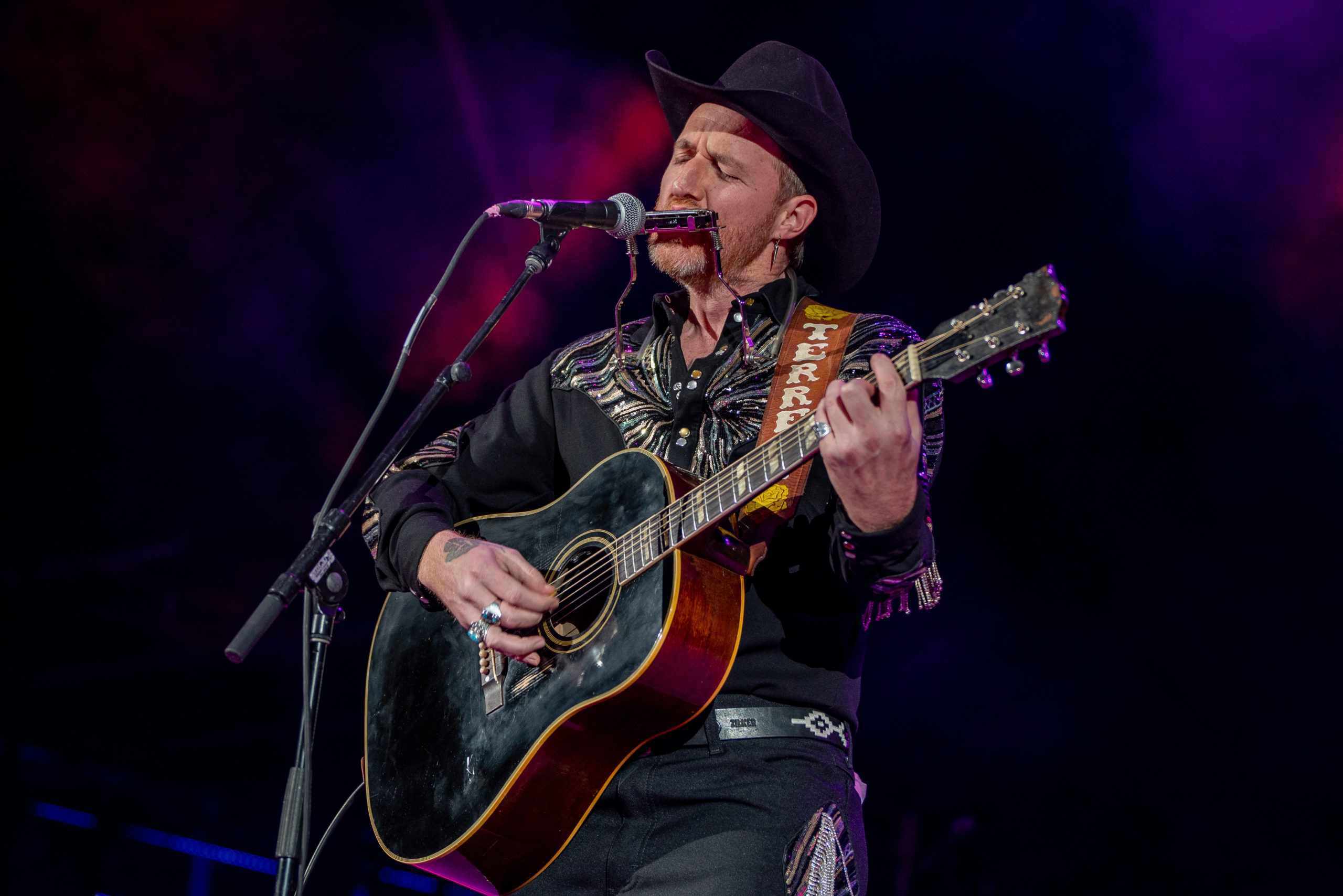 Decked out in a black suit with all the frills, East Texan Jonathan Terrell got the thing rollin' with a set comprised of his most current singles, including a few written with Midland's Jess Carson, whom he referred to as a neighbor and a brother. The stage at Red Rocks is large and can be intimidating, especially when you're only sharing it with a harmonica, a guitar, and a stool, but Terrell wasn't the slightest bit fazed. He was at home in front of the large crowd, constantly engaging, "appreciate y'all comin' out early, this one is for the country girls out there," and moving along to his own sound. The man was having a blast up there with his hip-shaking, boot-kicking, and guitar in the air. Set highlights for me were "Paint by Lightning" ("one of the photojournalists who shoot in war zones…and find beauty") and the wordplay tune he wrote for Mike and the Moonpies, "Damn Strait." He ended the performance with a song about looking at a trailer for rent in a bar parking lot, "Place Out Back." And while it was my least favorite of the set, you could feel the pride coming off him when he announced it was being considered for a Grammy. "I've never said that before and what better place to say it than Red Rocks?!"
Jonathan Terrell Setlist: Highway, Damn Strait, Paint By Lightning, Samantha, Texas, Vagabond, Place Out Back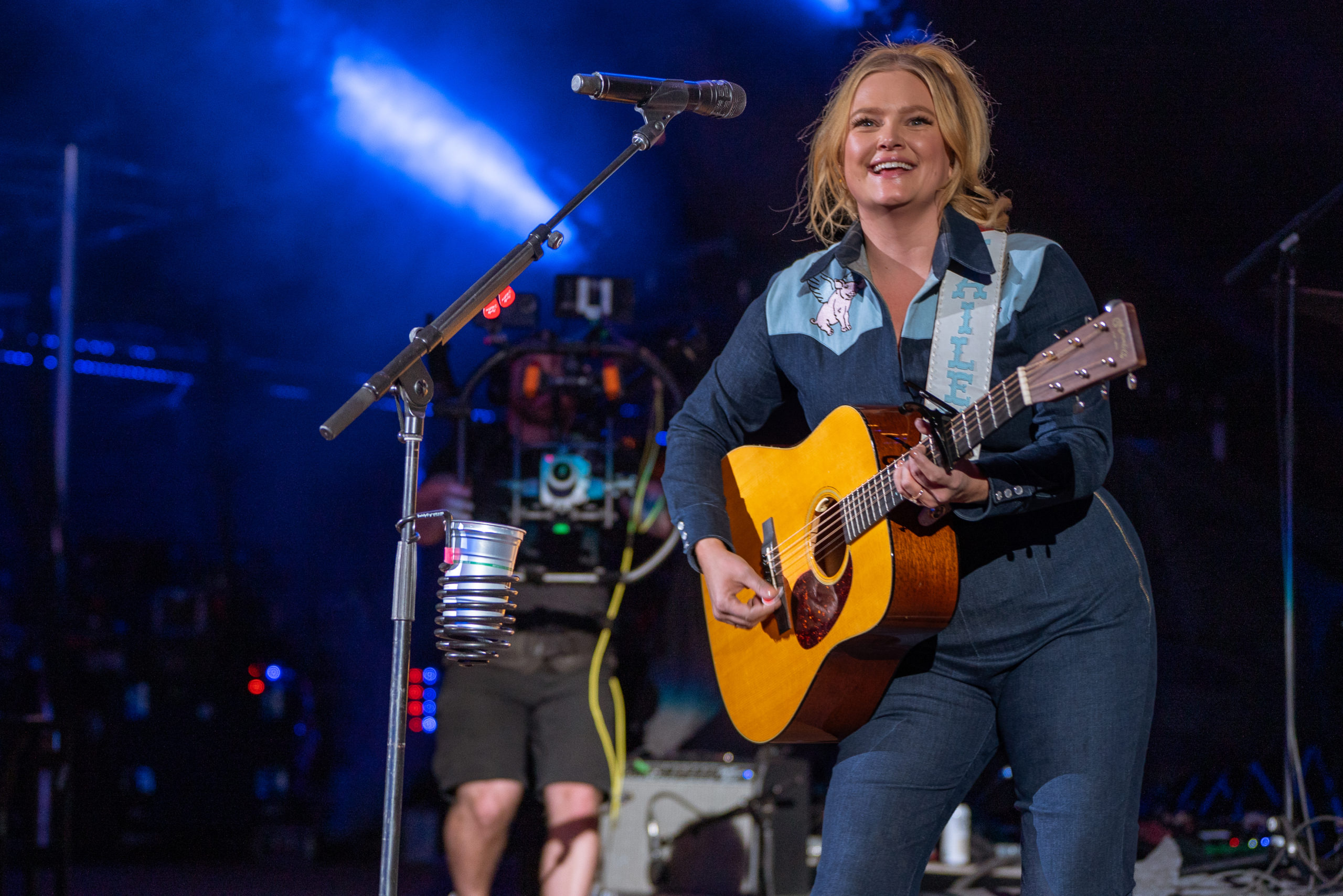 "I'm twelve years into a ten year town
I'm too far in to turn around
Too old to go back to school
Won't be much longer, I'll be old news
I thought I'd be a big star now
I'm twelve years into a ten year town"
If I remember correctly, "Ten Year Town" was the first Hailey Whitters song I heard. I've been a fan ever since. I didn't know at the time how autobiographical that song was. Hailey, now 33 years old, moved from Iowa to Nashville when she was only 17. That puts her at over fifteen years in that town, and she is just now getting her big break. That's not to say she's been struggling this whole time. She's written songs for some of country music's biggest stars (including Alan Jackson, whom she covered at Red Rocks) and has had moderate success on her own, but nowhere near the success she deserves.
"I've been in Nashville fifteen years," she announced from Stage Rock, "and I've had two dreams: to play the Grand Ole Opry, which I just did, and to hear my song on the country radio, which I didn't think would happen, but they are taking this next song to country radio, and I am happy as a pig in shit!"
"Everything She Ain't" ain't Hailey's best song, but if it's the song that gets her more exposure, there's nothing wrong with that. Having been a fan for a while, I was surprised by the lack of enthusiasm from the Red Rocks crowd. She had to coax them into clapping along with the song, and most of them weren't even getting up out of their seats to do so. What was up with these people? Backed by a full band and bursting out of her flying pigs denim jumpsuit with energy, Hailey was putting on a show of a lifetime for an audience who needed a good kick in the ass. As her powerful voice reached the top of the amphitheater and over the horizon, I realized she hadn't broken through in Colorado yet. This became more obvious when "How Far Can It Go?" gave way to Trisha Yearwood's "She's in Love with the Boy," causing the crowd to perk up a bit and sing along with the lyrics they were familiar with.
Like Jonathan, Hailey didn't seem fazed by the big stage or unappreciative audience. She focused on those who were standing and rocking along with her. She buddied up to her guitar player, pounded whatever she was drinking from her silver cup, and performed her heart out. She channeled her "first love," Trisha, as well as Miranda and Kacey, and she proved herself as much a star as any of them.
In my opinion, Hailey stole the show. "I love you, Colorado!" she screamed after ending things with a rendition of "Take Me Home, Country Roads." Colorado might not have returned that love, but many people got to their feet to applaud, so hopefully those people will pack the Grizzly Rose when she comes back next year. Hopefully, they will give her the Colorado welcome she deserves.
Hailey Whitters Setlist: Fillin' My Cup, Glad To Be Here, Plain Jane, Gone Country, The Neon, How Far Can It Go? / She's in Love With the Boy, Everything She Ain't, Boys Back Home, Heartland, Take Me Home Coutry Roads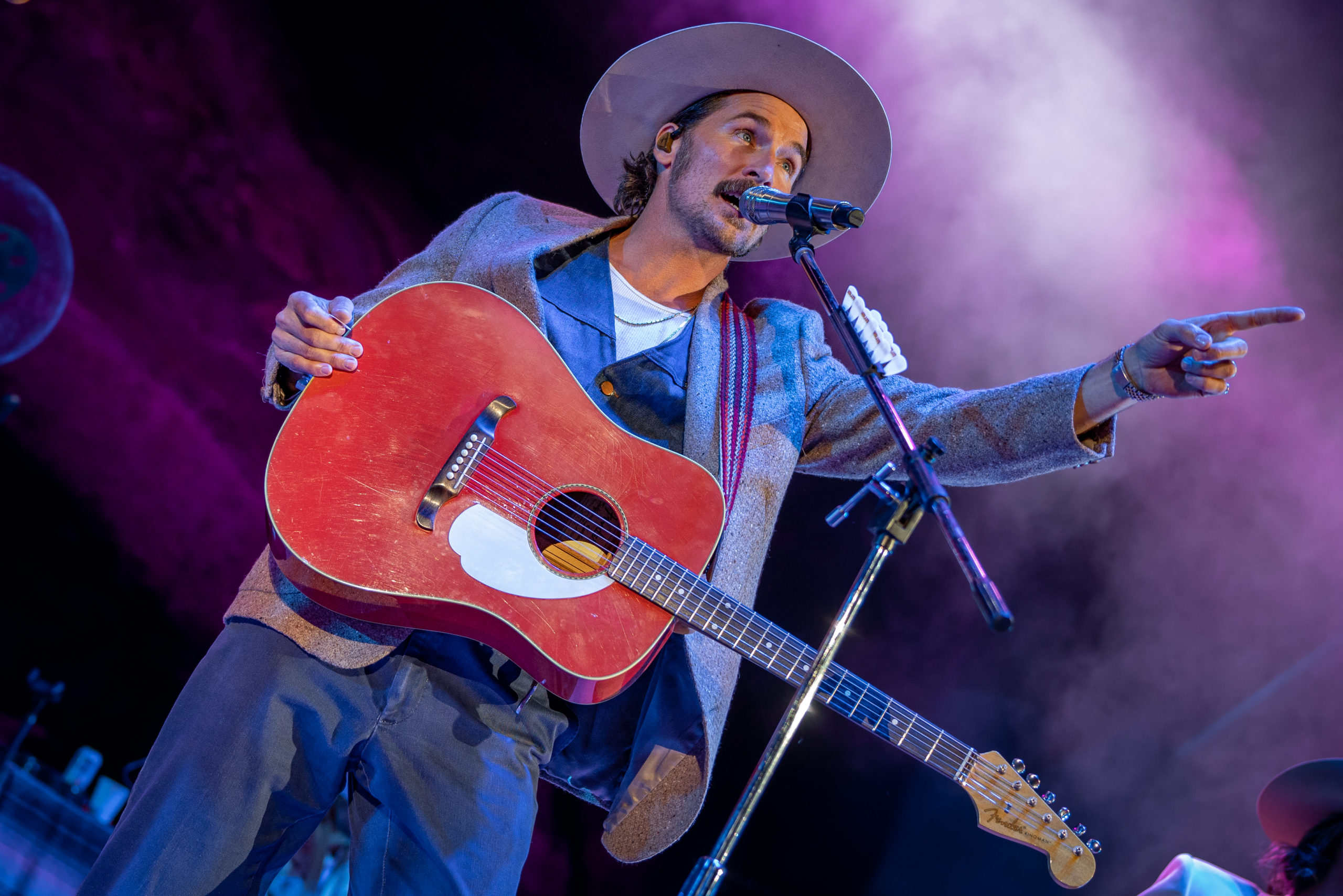 The second track from Midland's "The Last Resort: Greetings From" fades out with Mark Wystrach reminding the patrons to pay their tab and "tip your bartender." A familiar call from makeshift stages in dirty bars across the country but not usually heard from a band headlining a major venue. In a way, Midland turned Red Rocks into one of those bars on Saturday night. Headlining the venue in Morrison, Colorado, is somewhat of a status statement, but the guys from Midland were not trying to make a statement. Instead, they were just adjusting to their newfound popularity. They wanted to bring their music to Colorado, and Red Rocks was the only honky-tonk large enough to accommodate all their friends.
"Look at where our guitars have taken us!"
Having witnessed hundreds of performances on Stage Rock, I can't think of a single act that did not comment on the majesty of the place, but I also cannot recall a single artist who seemed as grateful and mesmerized as Mark Wystrach. He was euphoric. You could see it as the crowd and the rocks reflected in his eyes. When he said, "it's always been a dream of ours to play here," it wasn't lip service. He genuinely meant it. This was a man living a dream in front of our eyes. The newfound energy of the previously lethargic crowd proved they were living that dream as well.
And now I have to say, this was all somewhat confusing.
This was a band that was playing their first show at Red Rocks. An event so big it was being live-streamed to the fans who couldn't make it. Yet, it felt like I was watching a bar band. Sure, they spread out and made use of the square footage under their boots, and they made sure to light up the unique geological backdrop, but there were no fancy outfits, stage props, or pyrotechnics. They weren't even performing their biggest hits. In fact, they were playing cover songs by Thin Lizzy, Glen Campbell, and Jerry Reed. I felt like I should shout a request for "Sweet Home Alabama," drop a few bucks in a hat, and make my way back to the bar.
Why wouldn't a band like Midland pull out all the stops, blow the budget, and burn the house down? And why were thousands of fans on their feet and losing their minds over a performance that wouldn't be out of place at the old Buffalo Rose in Golden?
Then it dawned on me that this everyman persona was the appeal. Wystrach, Jess Carson, and Cameron Duddy make music that appeals to the everyman/woman. They are good-looking guys who can write damn fine honky-tonk songs and employ a handful of great musicians to round out the sound on stage with them. They are the guys next door who made it big but never forgot their neighbors. This is a band that makes entertaining music that's easy to dance to and isn't afraid of spicing up a set with some good old whiskey-soaked and beer-stained cover songs. They didn't need a bunch of flashy suits or gimmicks to keep the crowd engaged; in fact, that would've ruined the whole thing.
Luckily I came to this realization early in the set and could settle into the scene and enjoy every minute of it, especially the minutes in which they were playing "Burn Out" and "Drinkin' Problem." And when I was grabbing another beer and tipping my bartender, of course.
Midland Setlist: If I Lived Here, The Last Resort, Mr. Lonely, Out Of Sight, 21st Century Honky Tonk American Band, Playboys, Sunrise Tells the Story, Much Too Young (To Feel This Damn Old), Cheatin' Songs, The Boys Are Back in Town, Paycheck to Paycheck, Altitude Adjustment, Wichita Lineman, East Bound and Down, Burn Out, Longneck Way to Go, Drinkin' Problems, Fourteen Gears, Wicked Game, Dancing in the Dark