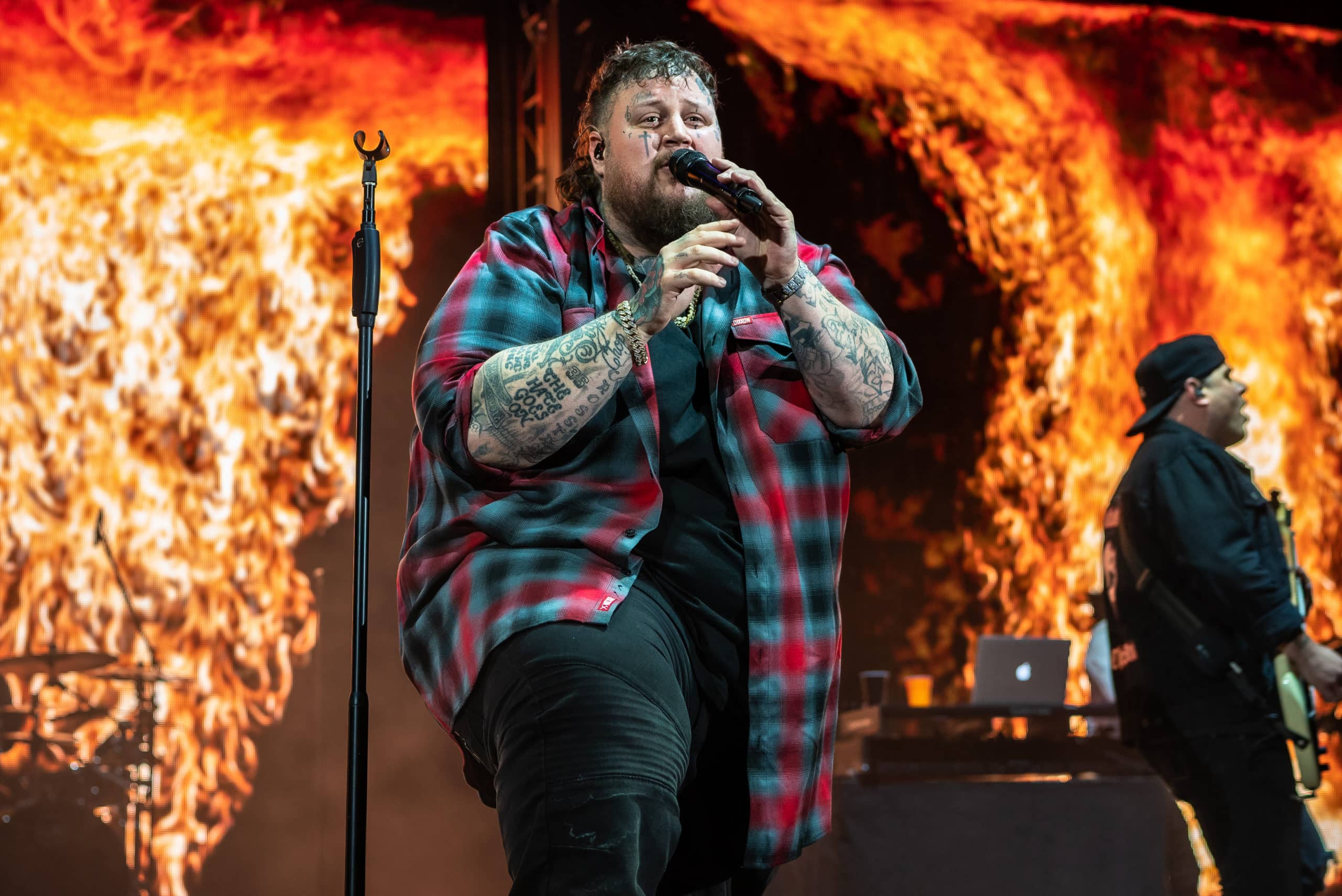 Jelly Roll with Struggle Jennings. Red Rocks. 10.23.22
Country music is old people's music. Or so I thought when I was a kid at my grandfather's house as he played Hank Williams, Waylon Jennings, and Merle Haggard. When I was in middle school in the late 80s, kids defined themselves as rockers or rappers. Obviously, that characterization was flawed because I listened to Metallica and Slayer as much as I listened to N.W.A. and Ice-T, and Depeche Mode and The Cure. Then the 90s came, and with them, Garth Brooks. His fusion of country and rock dismantled the definition of country music. That's when I had to admit it wasn't old people's music anymore. Clint Black, Reba McEntire, Travis Tritt, Vince Gill, and many others were on heavy rotation alongside 2Pac, Pantera, and Nirvana. And those artists were just gateways back to the legends who came before them; all those old voices my grandfather used to play.
My musical tastes cross genres, so I have no problem with artists coloring outside the lines of commonly accepted criteria of any form of music. The one thing I've always had a problem with is the melding of sounds for maximum profit. Dierks Bentley's "5-1-50," Trace Adkins's "Honky Tonk Badonkadonk," and every single piece of crap dropped by Florida Georgia Line. It is wrong to take the lowest common denominator from a few genres and force-feed it to the public via country radio.
Jelly Roll and Struggle Jennings are best friends from Nashville who grew up listening to their fathers' country music but, like most kids their age, also liked gangster rap and rock music. Nobody is only one thing. These guys grew up hard, as is evident in every song they write, but have leaned on music as a positive outlet. They don't make their grandfathers' music (Waylon is Struggle's step-grandfather), but they cannot ignore their roots. Hence, country rap.
This isn't Nelly chasing stadium-level cash with two douchebags in tight jeans and cowboy hats. This is southern hip-hop being performed by two guys who have lived the stories they tell. It's rap music performed by two guys who want to be rock stars. They employ full bands and pyrotechnics, they make high-budget music videos, and if they want to sing a country song now and again, that is their right. They grew up in Nashville and were raised in country families, so no one can question their credibility.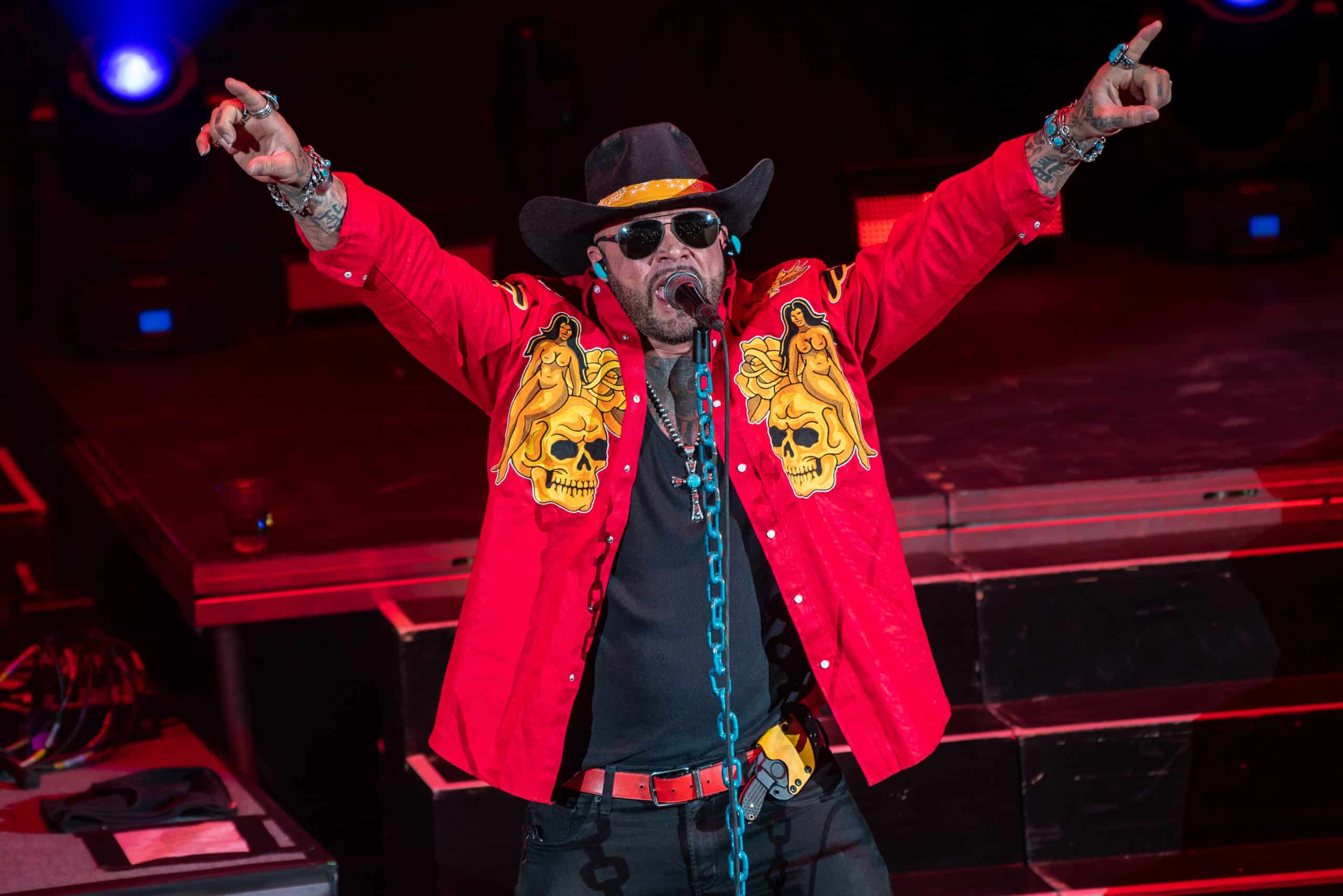 Having been to Red Rocks for the Midland with Hailey Whitters show the night before, I wasn't prepared for the weather or the lack of organization I found when I arrived. Lines protruded from every entrance well after gates were supposed to be open. We were queued up well past show time. I missed the minor openers and was not in front of the stage until Struggle Jennings was at least a few songs into his set. The place was crowded, like over-capacity crowded, and security was struggling. They weren't letting people with reserved seats into their rows and didn't know what to do with me when I presented my photo pass. I finally got to the soundboard and stayed there through Struggle's set.
As Struggle performed a song for his mother (Jessi Colter) and all the mothers, "Mama (Oh Sweet Mama)," with Waylon's voice providing the hook, I cased the crowd with increasing wonder. How the hell did these guys pack this place so full, on a cold Sunday night, in late October? Midland claimed they played a sold-out show on Saturday, but considerably more people were in attendance for this opening set. After a clever "The Struggle Is Real," the man of the hour gave a speech about how he was incarcerated when his daughter was born (something repeated by Jelly Roll later in the evening) before bringing her out for "Sunny Days" and "Have You Ever Seen the Rain." At this point, I realized Struggle is a decent rapper but not the best singer. His daughter, Brianna Harness, can belt it out, however. The two of them were having a great time on stage together, and the crowd applauded loudly when Struggle bragged about Brianna being on the honor roll despite losing her mom to an overdose and having a dad who had been in prison for much of her life.
Struggle's band was just as much fun to watch. His guitarist looked like a young Mike Muir, completing the image with a blinding bandana, while his bassist rocked a sleeveless Dead Kennedys tee. His DJ was augmented by the drum kit, making it feel like an actual performance rather than just a guy rapping over beats.
His last guest was the highlight of the set. Caitlynne Curtis' assistance on "God We Need You Now" and "Cries of the Crusader" turned Red Rocks into a thuggish ruggish church and left everyone feeling satisfied. Struggle ended things with "Outlaw Shit," with another appearance from grandpa on the chorus, "Don't you think this outlaw shit has gotten out of hand?" Maybe it has Waylon, but at least your grandson is putting in work on music instead of the drug game. It might not be music you'd listen to (I know my grandpa wouldn't have), but it's better than pushing weight.
Struggle Jennings Selected Setlist: Mama (Oh Sweet Mama), The Struggle is Real, Sunny Day, Have You Ever Seen the Rain, Man Like Me, God We Need You Now, Cries of the Crusaders, Outlaw Shit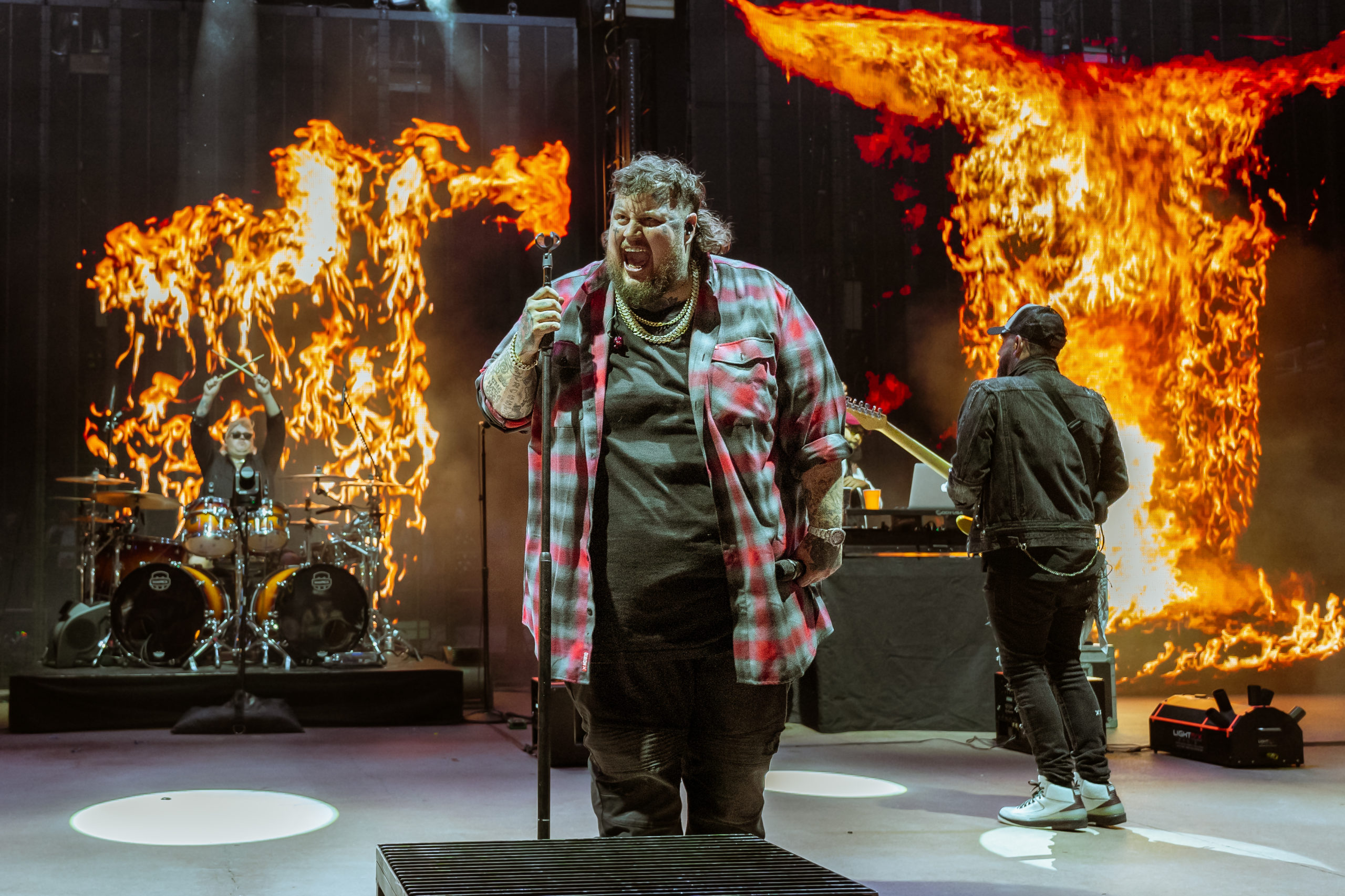 Catching Struggle's set was a bonus, but I was in attendance to see Jelly Roll. The larger-than-life character paused quite a few times on his way to the mic, looking up at the crowd between the monoliths with a shit-eating grin. Rocking a mullet and gold chains, the tatted-up 37-year-old looked like a giant kid in a massive candy shop. The PA music was silenced so Jelly could bathe in the sounds of thousands of fans screaming his name before DJ CHILL dropped the needle, and the first beat of "Hate Goes On" sent that same crowd into a frenzy. "We the type to pull up to ya party, like, "Wassup wit' y'all?" I don't know what was more exciting, the massive balls of fire shooting up from the stage or the people in the front row wearing "Jelly Roll Saved Me" t-shirts rapping every word in union with the "fat man" threatening to "slap one of ya'll" with his "back hand."
I only heard about Jelly Roll recently, from a post on Saving Country Music debating whether this face-tatted rapper from Tennessee is the future of country music. The comments section got highly heated, and Jelly Roll's wife got involved, even though the article wasn't all that negative. Jelly Roll isn't the future of country music, but to my knowledge, he's never claimed to be. What he does is something different. His music (which he explains as "therapeutic") is mainly for a crowd that doesn't relate to a lot of country music. If I had to guess, I would say I was one of the few at this show who was also at the Midland show the night before. So, being new to this scene, I was blown away by the power of the performance. I've been to many hip-hop shows, and Jelly Roll is a much better performer than most traditional rappers. I've also been to many country shows, but I've never (apart from Garth Brooks) seen an audience so emotionally invested in a performer.
"This is the most tickets we've ever sold to a Jelly Roll show!" he announced before introducing his wife and singing happy birthday to a family member who had passed. "I like rock n roll, but I grew up on outlaw country, and my mama used to play that Motown music "sittin' by the dock of the bay," but I also grew up listening to gangster fucking rap!" As if to prove this point, a medley that included "Sweet Home Alabama," "can we make some noise for Lynyrd Skynyrd," "Jump Around," "Smells Like Teen Spirit," "99 Problems," "Killing in the Name," and "Beer Never Broke My Heart" followed.
His drummer busted two beers and slammed them. His bassist quit his job, "fuck that job," to join the tour. His guitarist polished off a bottle of Jameson while soloing. Struggle, who came out to perform "Cowboys" and "Fall in the Fall," is on federal parole. This was a band of misfits, if there has ever been one, hence how they could fill an entire amphitheater with thousands of misfits just like them. "I look up and see 10,000 motherfuckers signing this song!" Eyeing a little girl in the front row, Jelly invited her to sing with him on the stage. It was her grandma's birthday, so she was invited up as well. This is not something expected at a rap concert; it is common at a Garth Brooks show. It just added to my perception that while these guys are "hard" and have lived questionable lives, they have hearts and are not afraid to wear them on their sleeves.
"This song is #8 on country radio!" "Son of a Sinner" was the first song I heard by Jelly Roll, and I liked it a lot. It is country, and he can sing a country tune as well as he can rap. And although he doesn't claim to be country, you can tell there is a certain thrill in infiltrating country radio. A big middle finger to the people in his city who don't respect him as an artist. "I fuckin' love ya'll, man!" An ongoing narrative of the night was about being built up by the fans instead of by the machine. Almost every song had stats attached to it, stats achieved by DIY marketing and fan participation.
One of the darker moments of the night came just after Jelly Roll brought his daughter, Bailee Ann, out for "Tears Could Talk." With watery eyes, he announced his nephew was shot and killed that morning. The crowd helped him scream Lil Tate's name to the heavens before singing along with "Smoking Section."
I could sum up the night by talking about the production value of the show, or how security had a hard time with people completely fucked up on drugs and alcohol, or offer my take on what artists like Jelly Roll and Struggle Jennings mean to rap, rock, and country music, but I think Jelly's own words sum it quite nicely.
"Music can heal, it can help, and it can be there for you in the darkest moments. This is not a concert. It is a family reunion of people healing together. This is music for the broke, the homeless, the motherfucker who came from the bottom. For real motherfucking people."
Whether you or I agree doesn't matter because 10,000 motherfuckers in Morrison, Colorado, on a cold night in October did.
Jelly Roll Setlist: The Hate Goes On, Only, Same Asshole, Son of the Dirty South, Wheels Fall Off, Cowboys, Fall in the Fall, Bottle and Mary Jane, Son of a Sinner, Tears Could Talk, Creature, Dead Man Walking, Smoking Section, Simple Jack, Glitter, Save Me